Tiny House in Joshua Tree, CA
Thinking of the love and time spent building The Gypsy Wagon (Joshua Tree airbnb) not fully realizing how much love this Tiny House would give to so many others. She's resided in Joshua Tree coming on 2 years and in that time I've LOVED to hear how The Gypsy Wagon keeps on giving.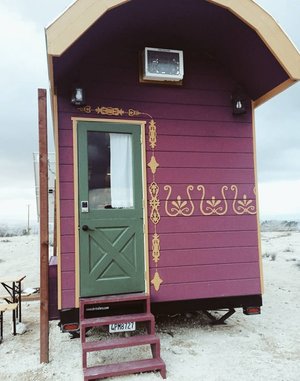 About a year ago, we (our Long Beach family) was having a mellow backyard party. I started talking to a girl named Rebekah and after some chat, I found out she was having a fundraiser for the recent shooting in Las Vegas. I explained to her that I owned a company that offered vacation rentals, and that I would be interested in donating one of our properties as part of the auction. She was interested and took down my number. Later that week she called me and I emailed her a link of our Vacation Rentals, she said she couldn't believe what she was seeing…
About a year ago Rebekah decided to take a girl's trip for New Year's Eve. It happened to be raining New Year's Eve and so they stayed indoors. Rebekah and her girlfriends ended up having quite the spiritual retreat indoors that night – one of spiritual enlightenment, and prayer, with the sound of rain falling on the roof . The property they were in felt "sacred," so much so that she wasn't sure she could ever go back. As we all tend to do around New Years, the girlfriends went around the room expressing their wants for the new year. Rebekah expressed wanting to give more and wanting to put on a fundraiser before the end of the year (this was something that was out of her comfort zone and so it made her a bit nervous) .
Back to the present – Rebekah was in fact putting a fundraiser together, and wasn't sure it would go well or that she was doing all she could. She was feeling like she could use some encouragement. Here she was sitting in front of this email that I had sent her, and couldn't believe what she saw. She was staring at the property her and her girlfriends had spent that sacred night in almost a year ago in Joshua Tree at The Gypsy Wagon . (our vacation rental) It just so happened that we were at the same intimate backyard party, 3 hours from Joshua Tree. Just when Rebekah thought The Gypsy Wagon had given her what she needed on New Years, The Gypsy Wagon was giving once more.